2017 Photo Gallery
Welcome to Albion's 2017 Big Read Photo Gallery! It is our goal to use visual representations of the Big Read to share the joy over and over again. The gallery is separated by events, which are categorized by date. The most recent event is listed first. Click any small photo to make it larger, and use the arrows shown on collections to browse.
Albion's 2017 Big Read CELEBRATION! & Keynote Speaker, Jason Reynolds
November 1, 2017
The morning began at Marshall Middle School with every grade and award-winning novelist Jason Reynolds. Mr. Reynolds spoke about his journey to becoming an author, read from "Ghost," a popular novel among Big Read Youth Leaders, and also met with the middle school Book Club.

The evening Celebration and Keynote Address marked the end of Albion's 2017 Big Read. With a video and a lot of gratitude, we celebrated the amazing work of the 2017 Big Read Youth Leaders and all who made this program possible. In his Keynote Address, Mr. Reynolds discussed the beautiful work that books can do to help us live more fully and more justly and the unmatched power of humility, intimacy, and gratitude.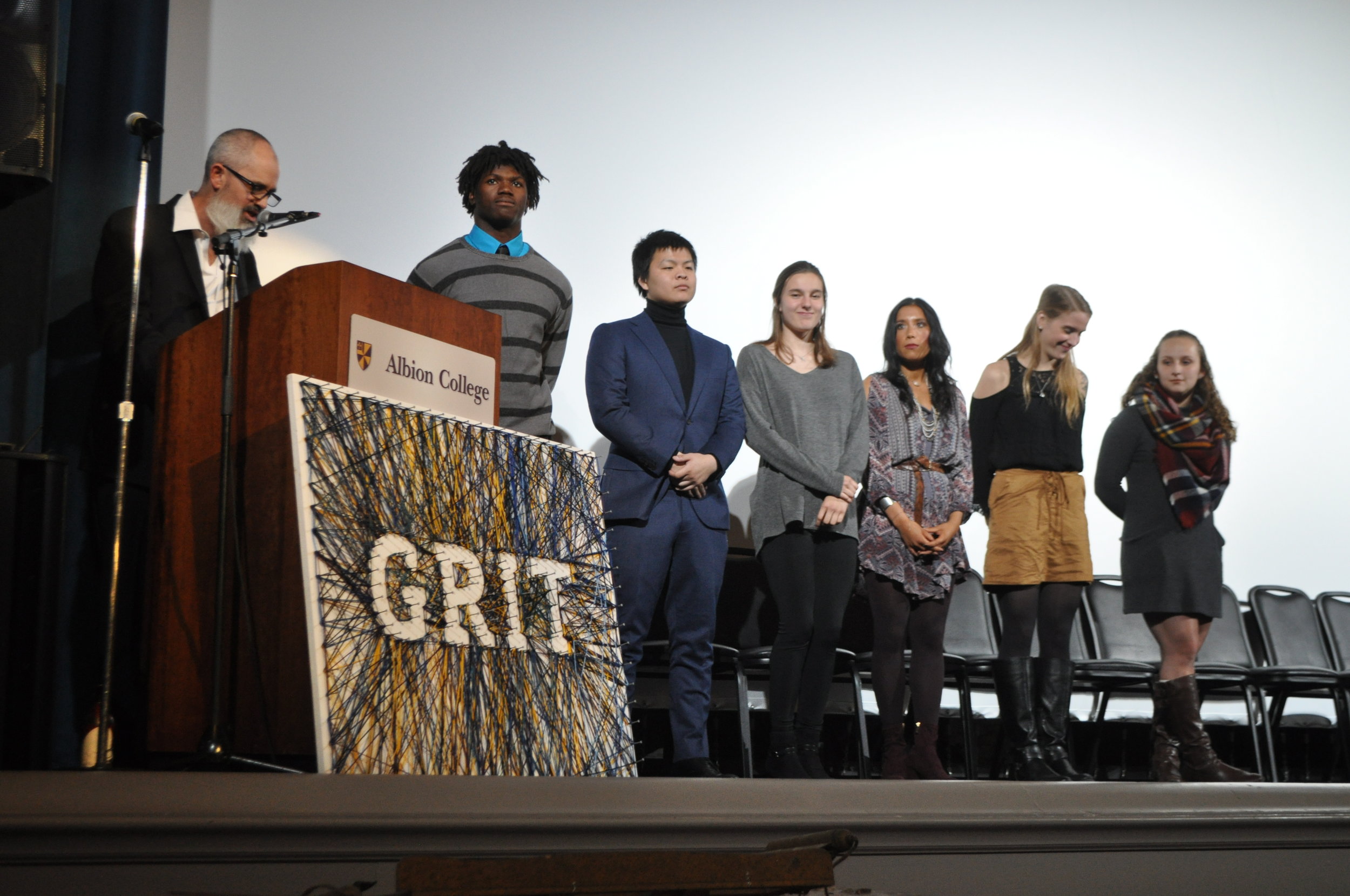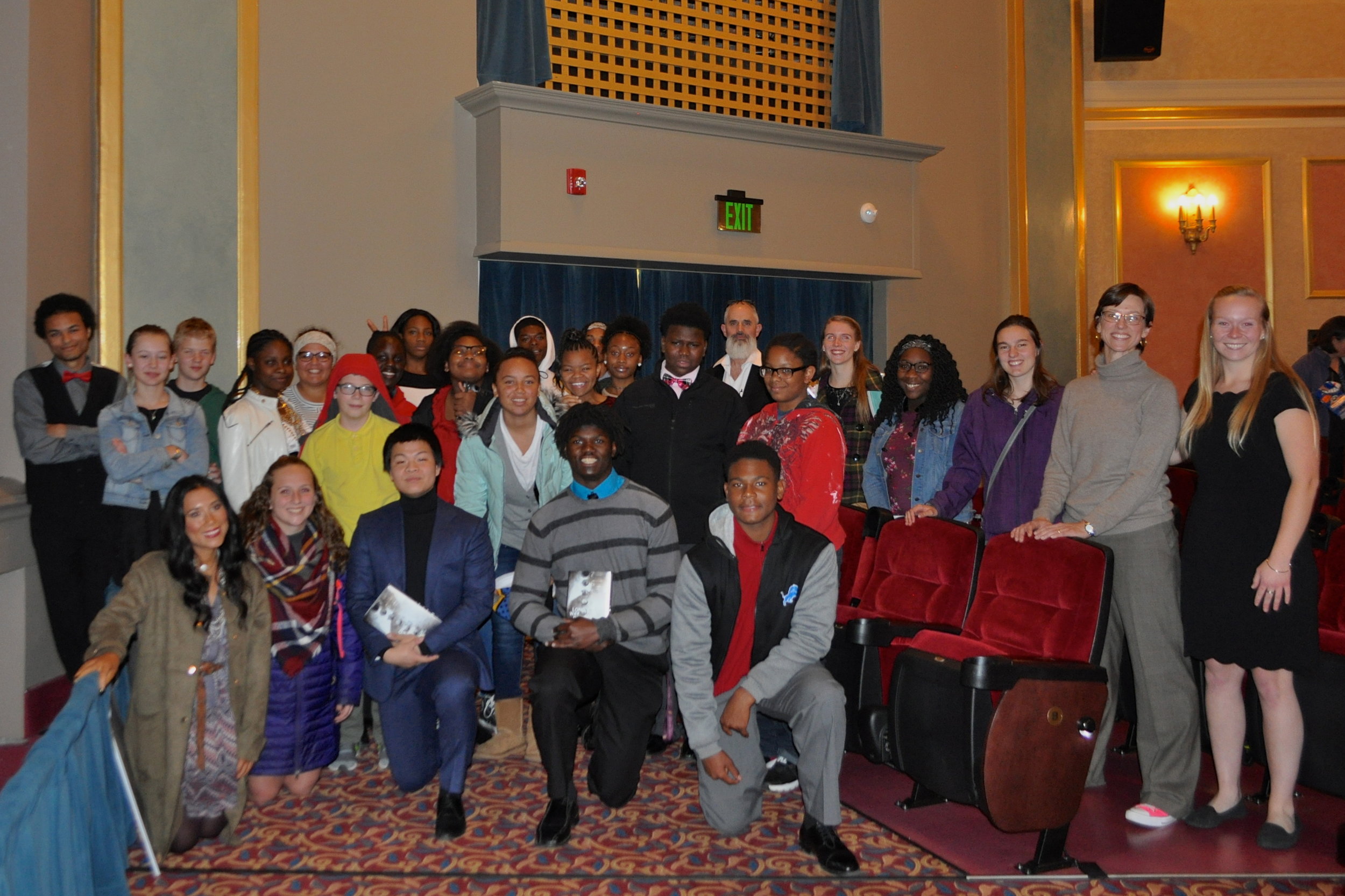 Final Book Discussion with Aaliyah, Aja, A'Vee, Bebe, Carl, Emmylou, Fred, Ja'Kobe, Jason, Malena, Ta'hlia, Ta'Jyanna, and Za'Riah
October 22, 2017
The final book discussion is an open call for any Youth Leaders who are interested in leading for a second time. Thirteen Leaders opted to participate and developed a discussion about stereotypes and dynamism. After splitting participants into two groups using a this-or-that game, the Leaders asked one group to think about where stereotypes and asked the second group to consider ways that people and characters change using the phrase: "from _____ to _____." (For example, one might have been "from good to evil.") The discussion ultimately examined the world of "True Grit" as well as our own, the ways stereotypes influence interactions, and how individuals change over time. We would like to thank AAUW for hosting our final discussion.
Walk the Beat
October 21, 2017
One of our most beloved partners, Albion Walk the Beat, hosted forty-two bands from all over the Great Lakes in Albion. It was a beautiful Saturday full of music throughout downtown Albion with blues bands, jug bands, rock 'n' roll, bluegrass, and more. What an incredible event!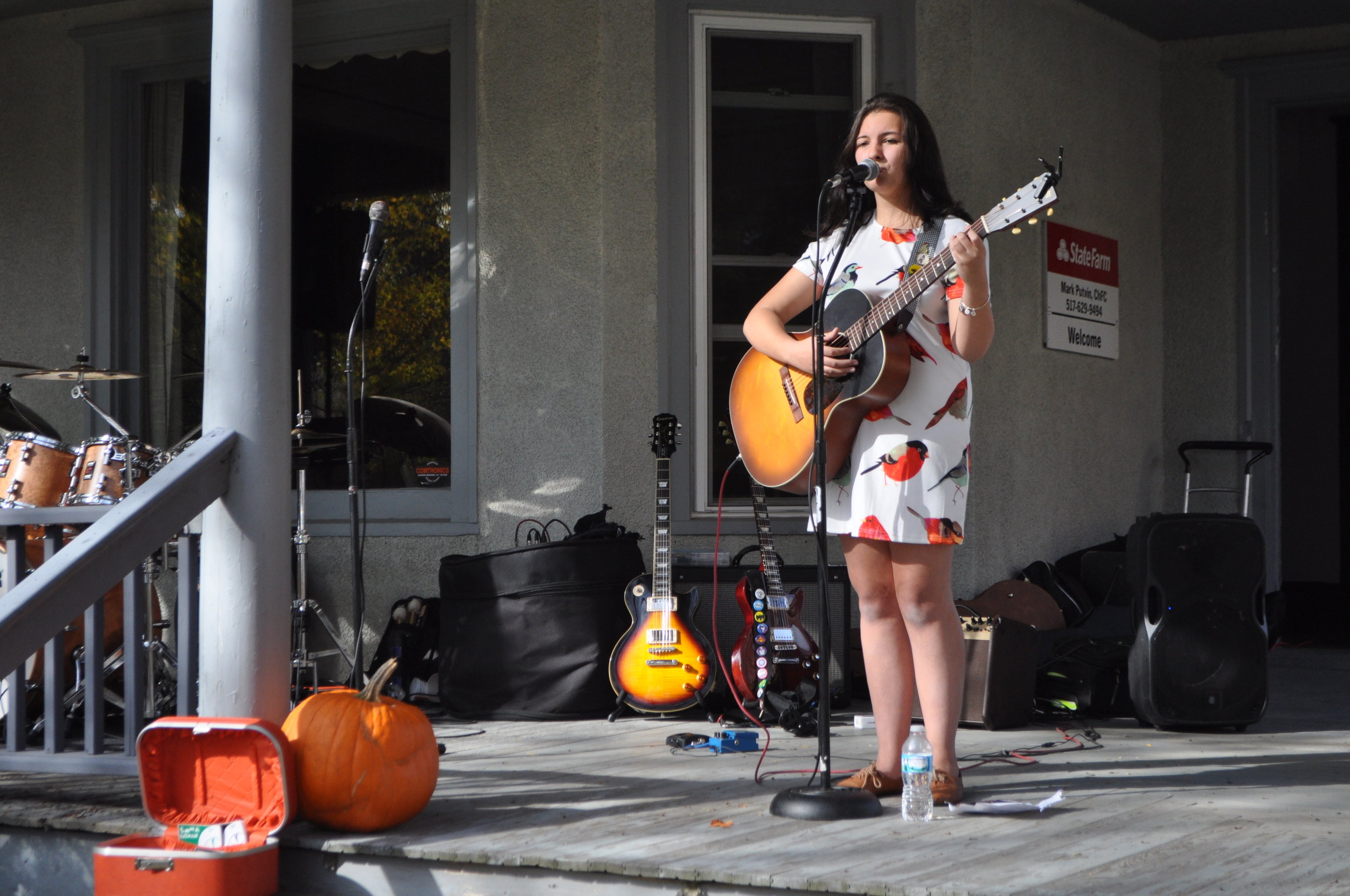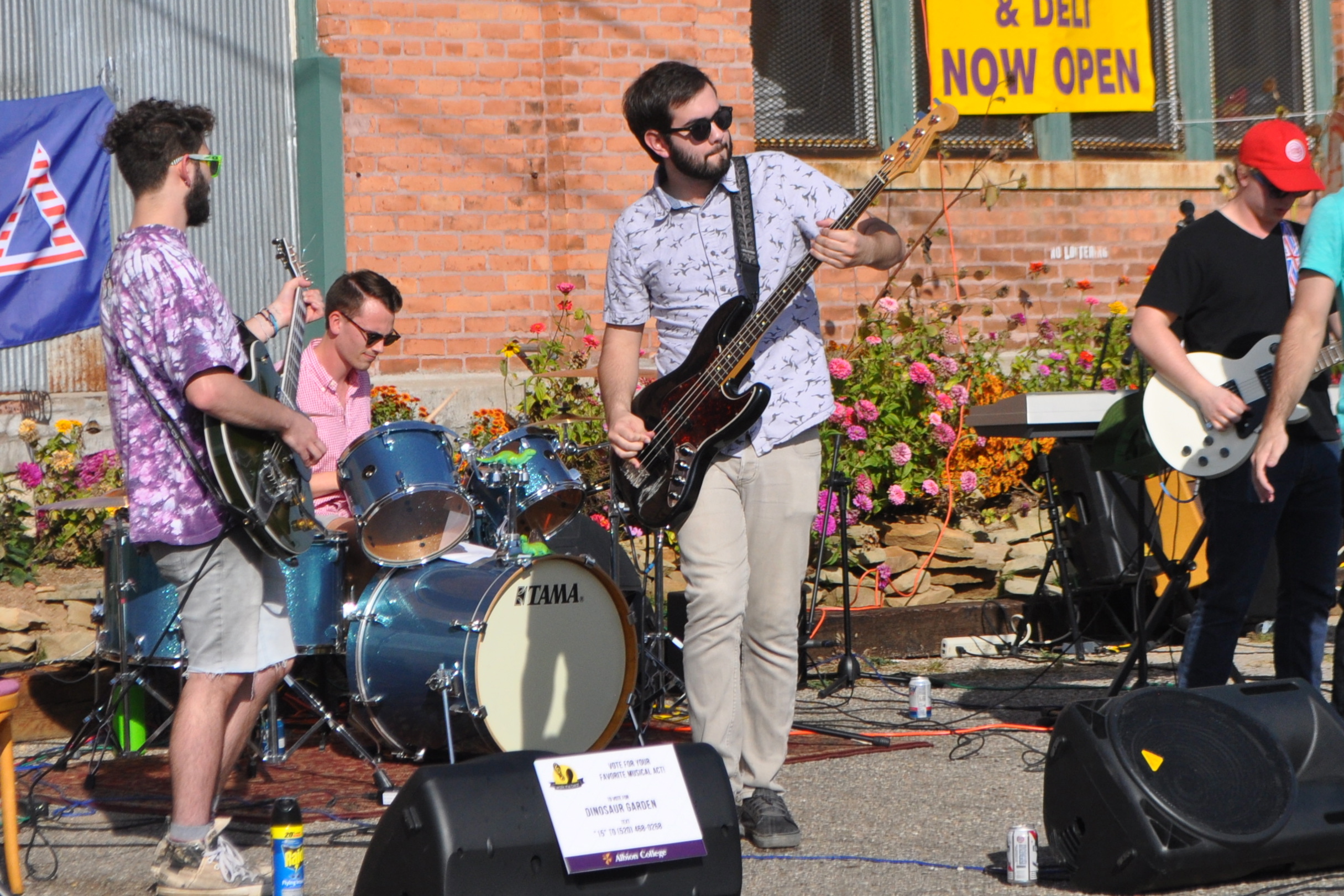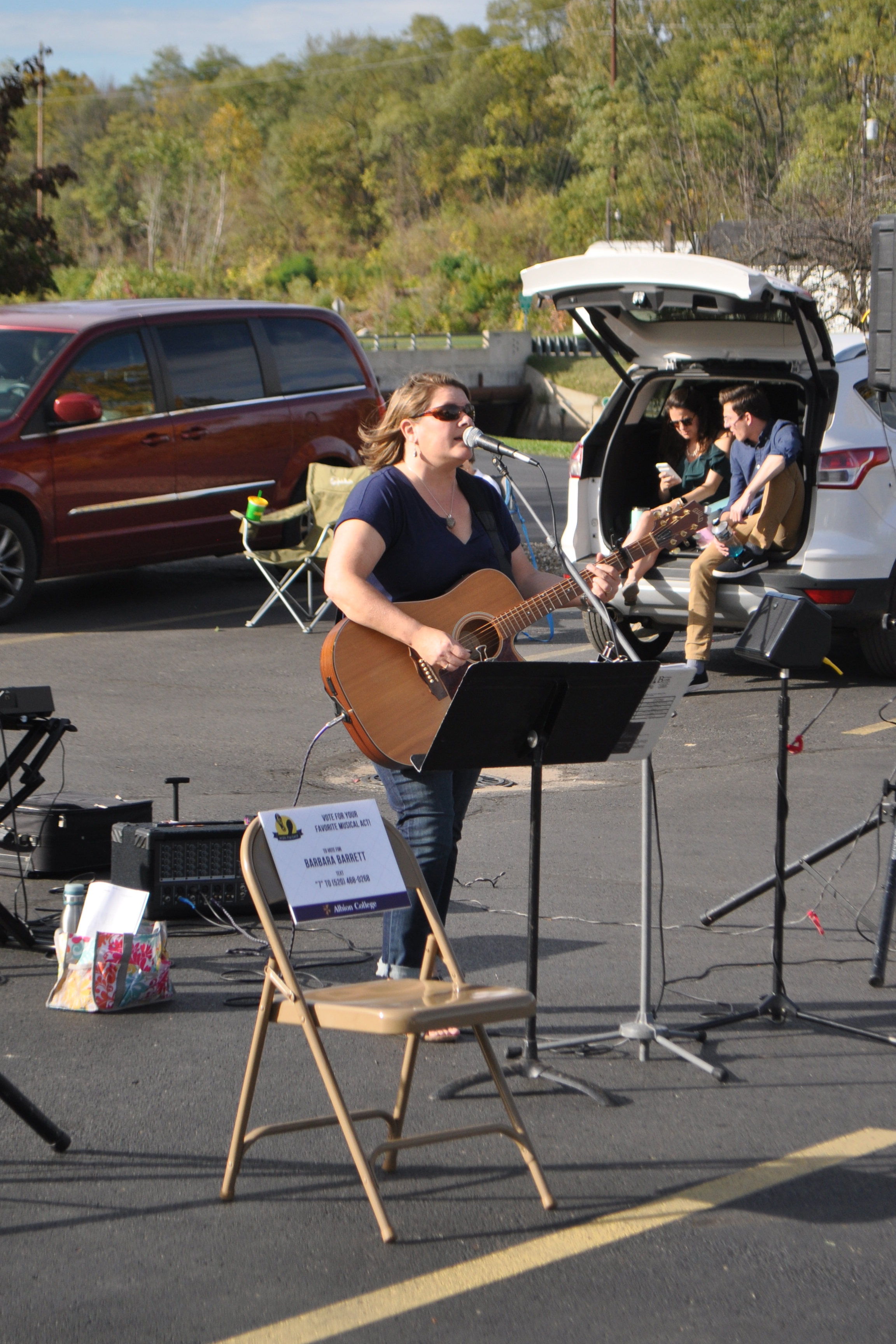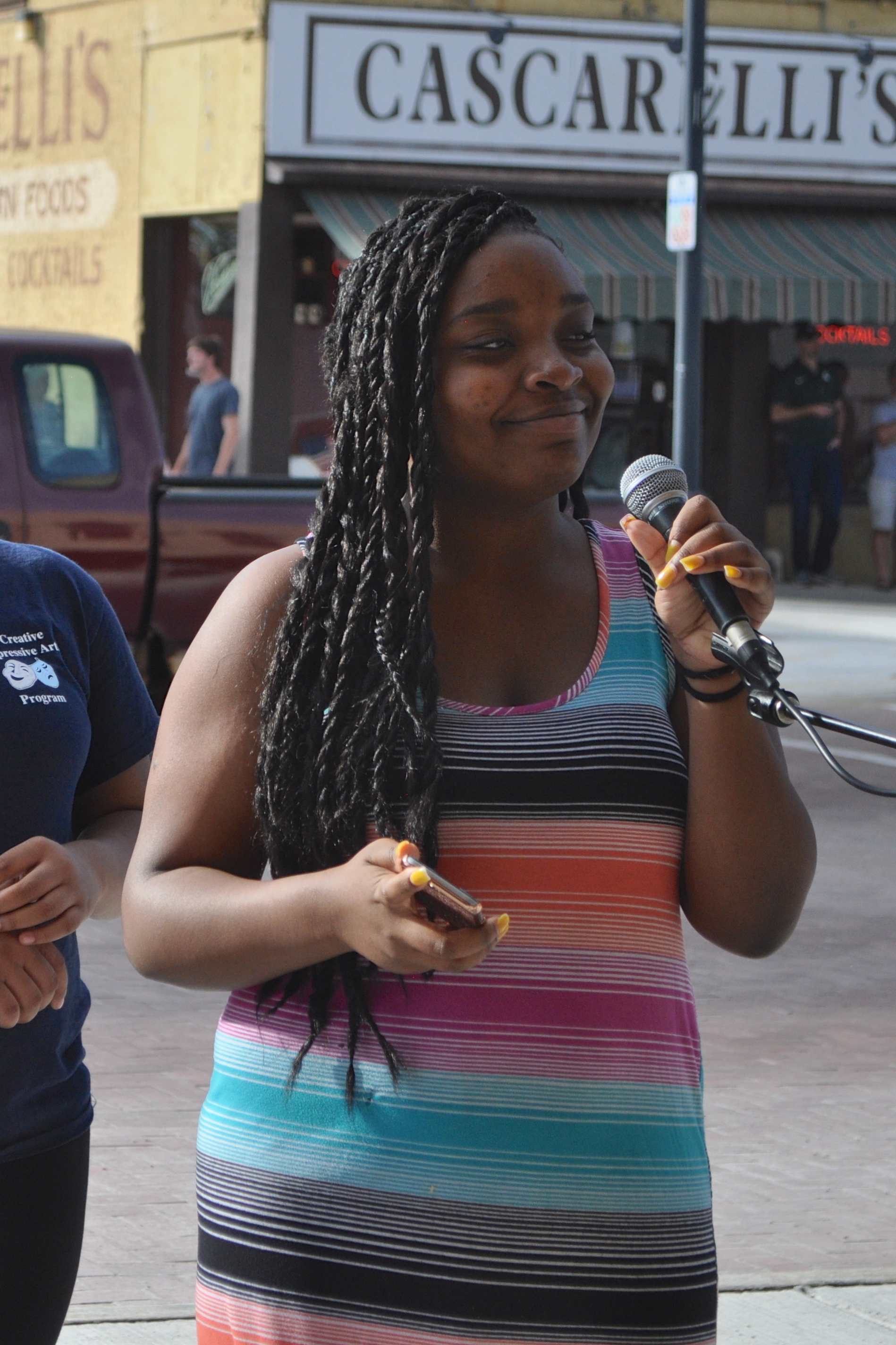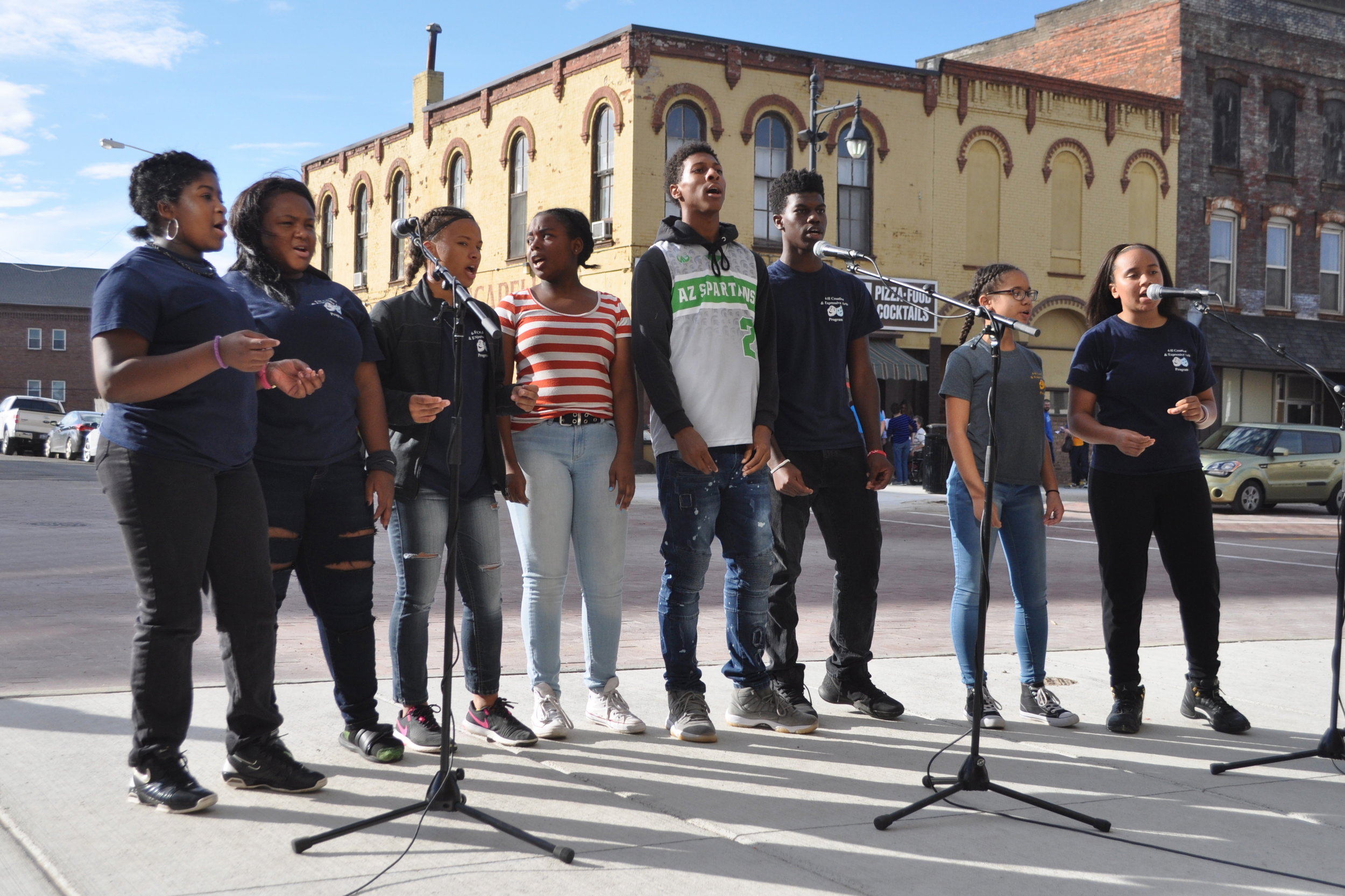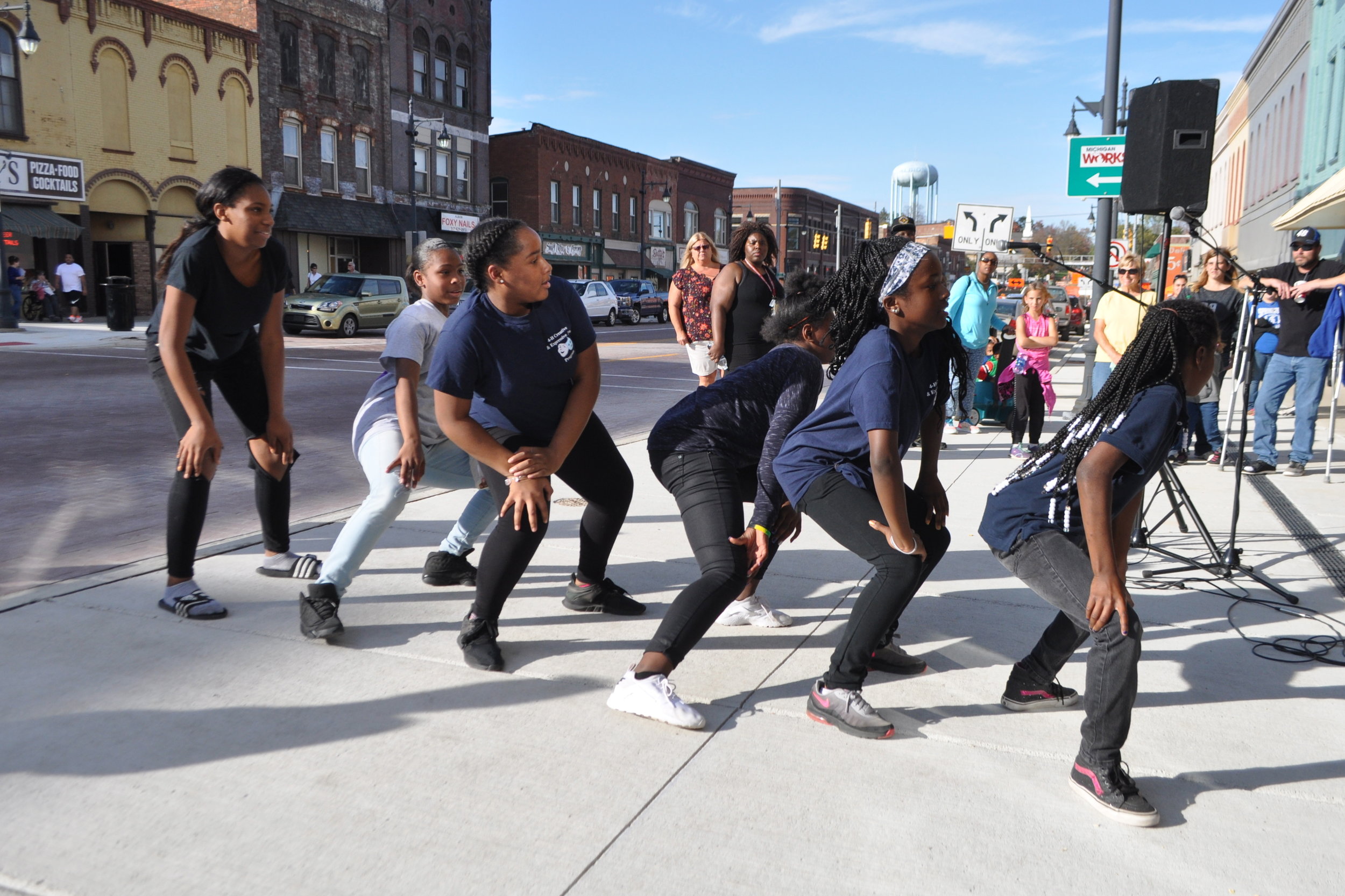 Elephant Rebellion Workshop & Performance
October 19, 2017
Hip-hop artist collective the Elephant Rebellion spent five days alongside young people at Harrington Elementary and Starr Commonwealth working on music and dance. Harrington's fifth graders even performed for the entire school! Their visit ended with an electrifying performance with their own music and dance that aims to empower communities. Albion's own 4H Expressive Arts youth opened for the performance, too.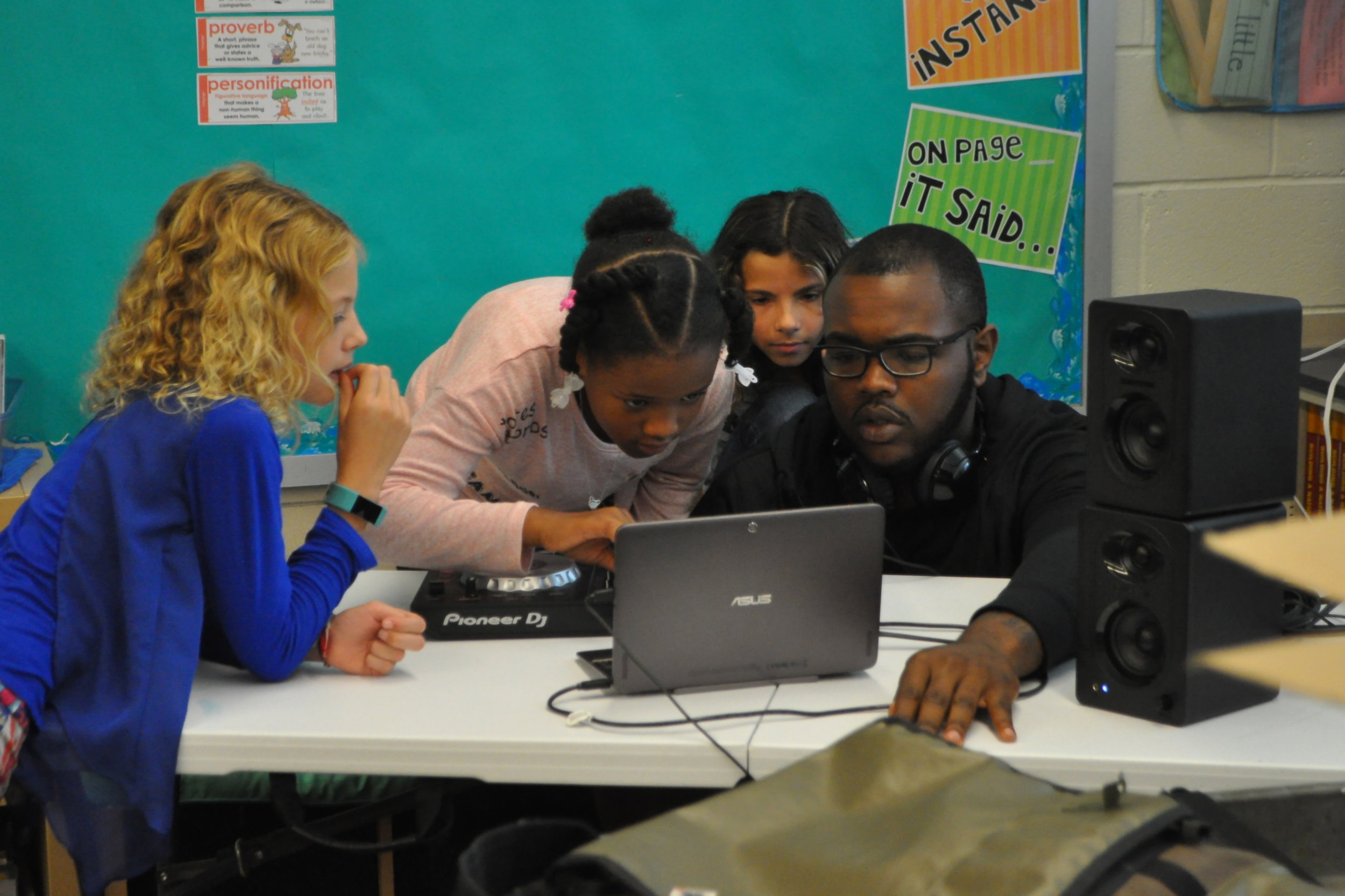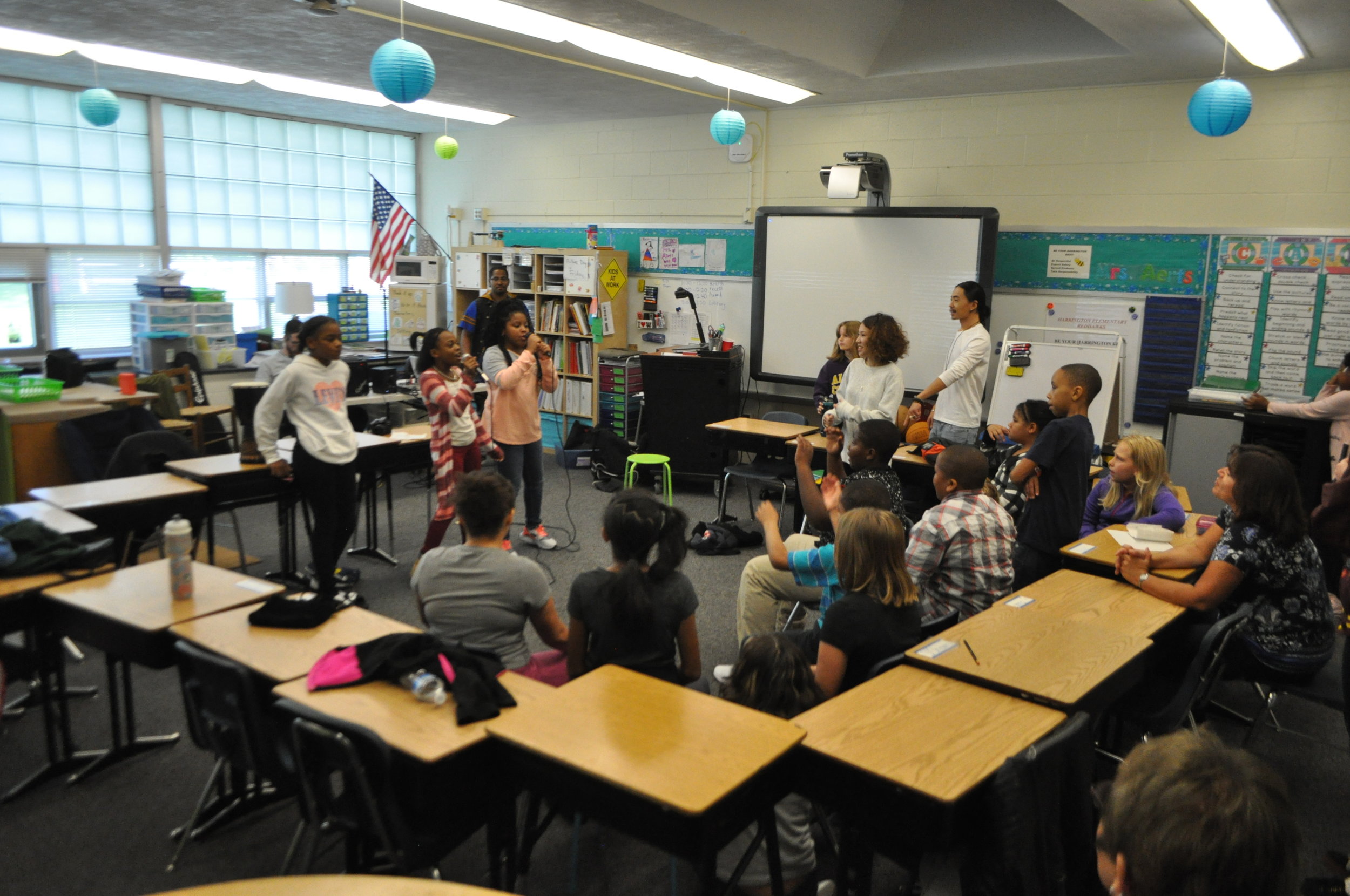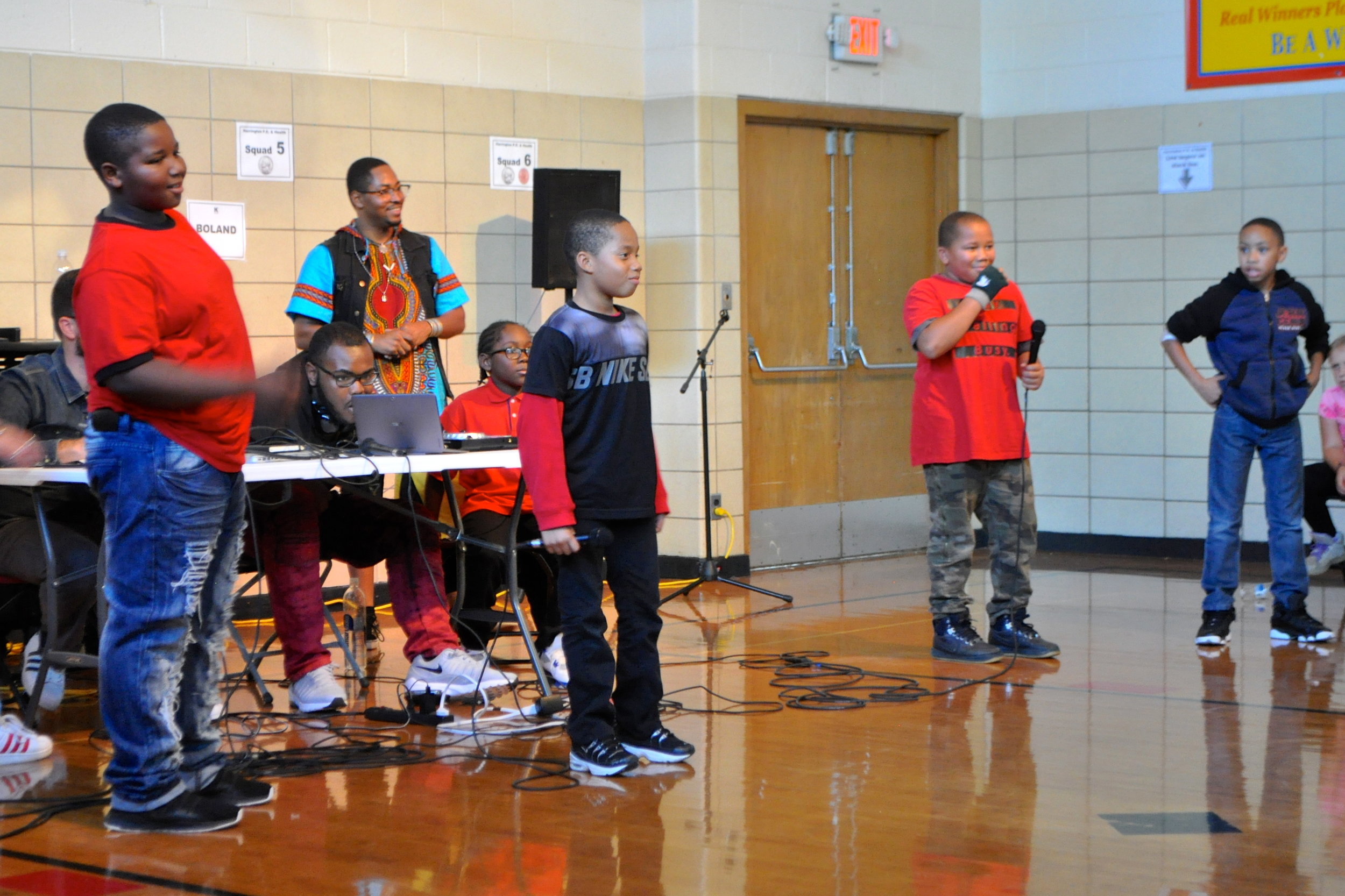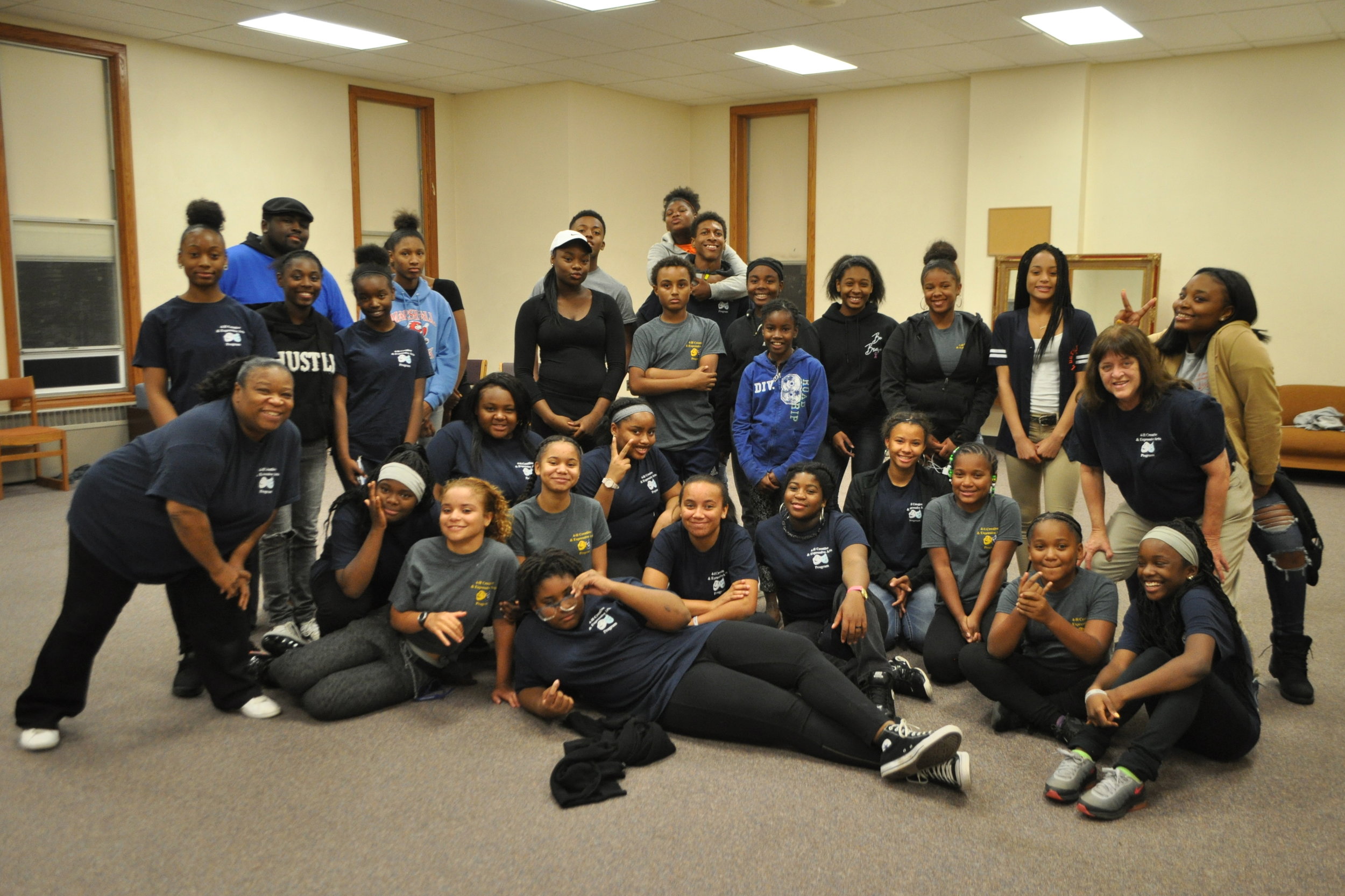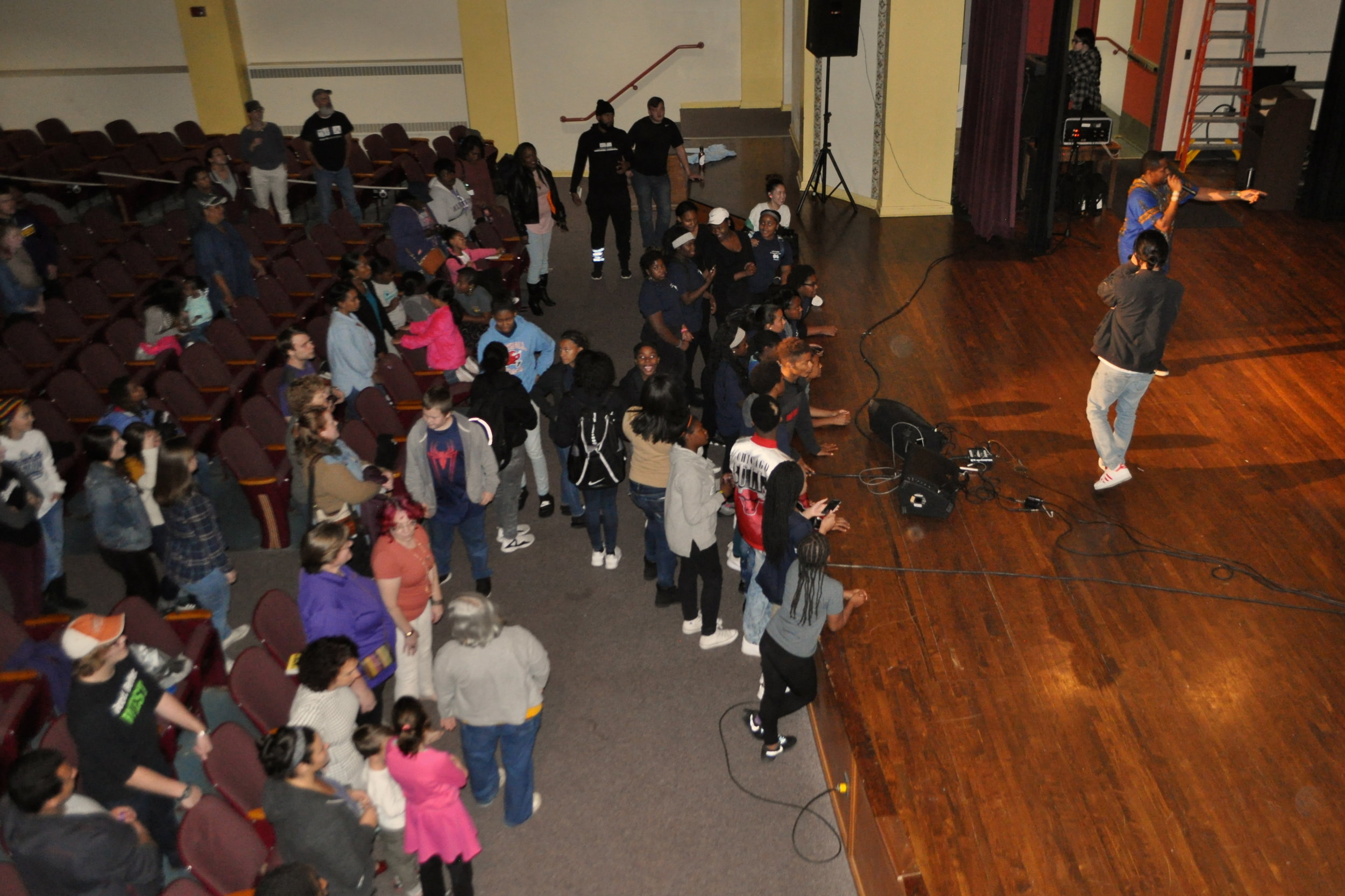 Free Write Lecture: "Mitigating Evidence: Shifting the Narrative About Criminalized Youth"
October 17, 2017
This lecture by Free Write Arts & Literacy founder Ryan Keesling and Roger Bonair-Agard explored how we, individually and collectively, can interrupt the stereotypes and fears of incarcerated, court-involved, and criminalized youth. They shared and explored "Mitigating Evidence" strategies designed by the program and ways the audience can use those strategies in a variety of disciplines. Free Write Arts & Literacy is a Chicago-based organization with 18 years of experience engaging incarcerated and court-involved youth in art making, literacy skill building, and post-incarceration employment. Learn more at freewriteartsliteracy.org/.
We would like to thank Albion College Departments of Political Science and of Anthropology and Sociology for hosting this lecture.
Book Discussion with A'Vee, Bebe, & Marshall
October 15, 2017
A'Vee, Bebe, and Marshall led a dynamic discussion about friendship and respect. Together the group explored the definition of friendship and how it can be unconventional and complicated, such as the one between characters Mattie Ross and Rooster Cogburn. Then they explored ways that respect and friendship are often related and how it can lead to powerful interactions, both in our own lives and in the world of "True Grit." We would like to thank Schuler Arts for hosting.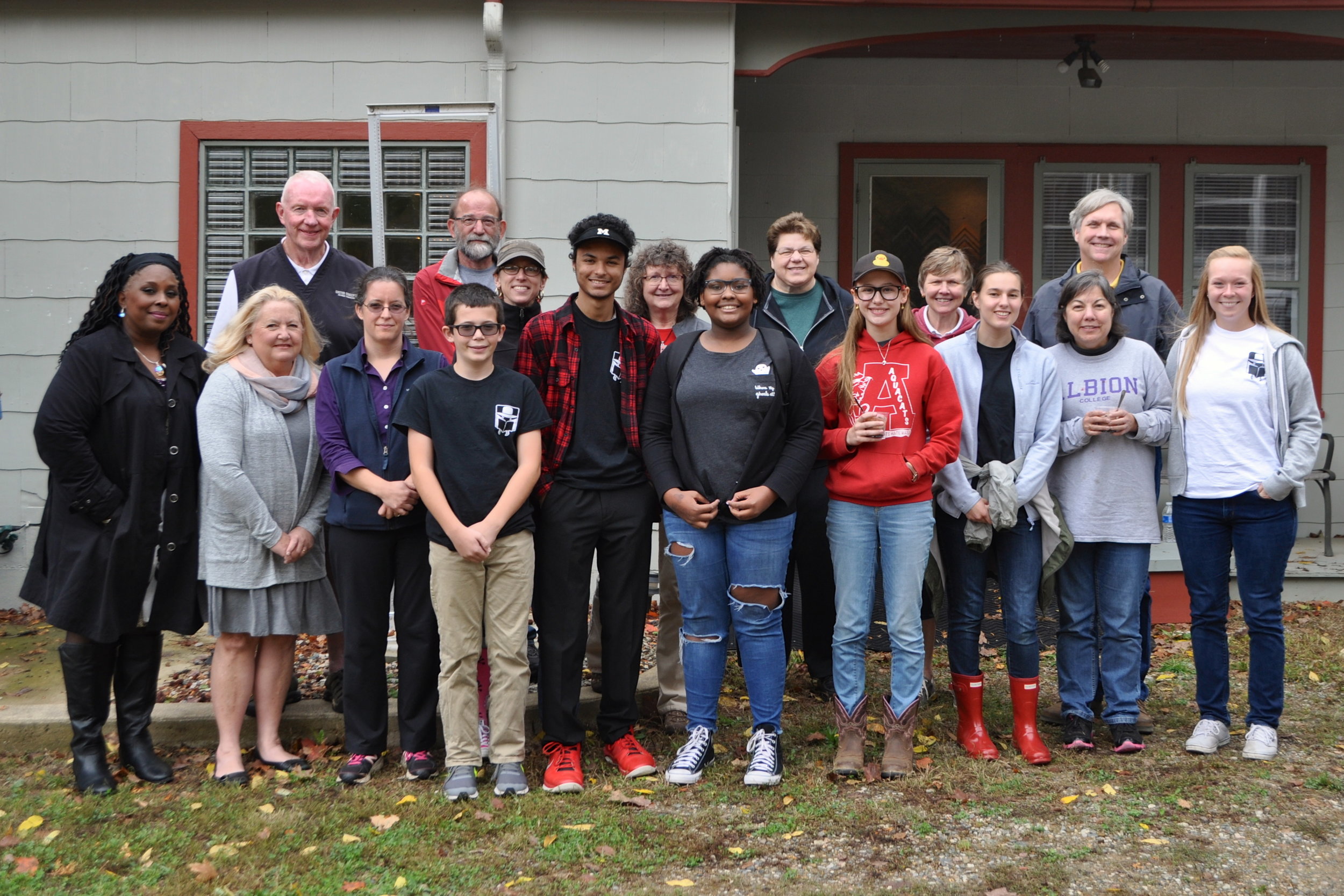 Book Discussion with Carl, Ja'Kobe, Jason, & Malena
October 14, 2017
In a group of four, Carl, Ja'Kobe, Jason, and Malena led a compelling discussion about learning and justice. They asked participants to write about something they had learned and how they learned it. After asking participants to share, the four Leaders then asked participants to make lists of things the characters had learned within the pages of "True Grit". The discussion explored ways that characters learned humility and bravery and how justice is intertwined with learning altogether. We would like to thank our host, Albion College's Black Student Alliance.
Book Discussion with Ivan, Ta'hlia, & Ta'Liyah
October 14, 2017
After asking a volunteer to read a passage of "True Grit" aloud, Ivan, Ta'hlia, and Ta'Liyah led a discussion that connected representations of bravery and perception. They asked participants to make lists of details from the pages that were read aloud and then asked groups to consider how those details shape a reader's perception. The rich discussion developed into one of questioning the narrator's bias and recollection of events. Thank you, Alpha Kappa Alpha, Inc., Psi Kappa Omega Chapter, for hosting this discussion!
Book Discussion with Niya, Tyland, & Za'Riah
October 11, 2017
Niya, Tyland, and Za'Riah led an interactive discussion about significant places. Using a map of Albion projected on a dry erase board, they invited participants to use a key and draw symbols to mark significant places in Albion: places they ate food, places where things went wrong, places they have slept, and more. They then asked participants to make lists of significant places within the pages of "True Grit", and it developed into a comparison of those places in the old West. We would like to thank our hosts, Albion College's Astronomy Club and English Honors Society, Sigma Tau Delta.
Book Discussion with Emmylou, Jamiyah, & Ta'Jyanna
October 10, 2017
Emmylou, Jamiyah, and Ta'Jyanna led a creative book discussion about similarities and differences. The group of three asked participants to use markers, stick figures, and a dry erase board wall to outline concepts and things each individual loves and values, items they use, places they have been, and thoughts about "True Grit". Then they asked small groups to do the same activity for characters in the novel. It developed into a discussion about similarities between the characters and discussion participants. Thank you, Sisters Influencing Society, for hosting!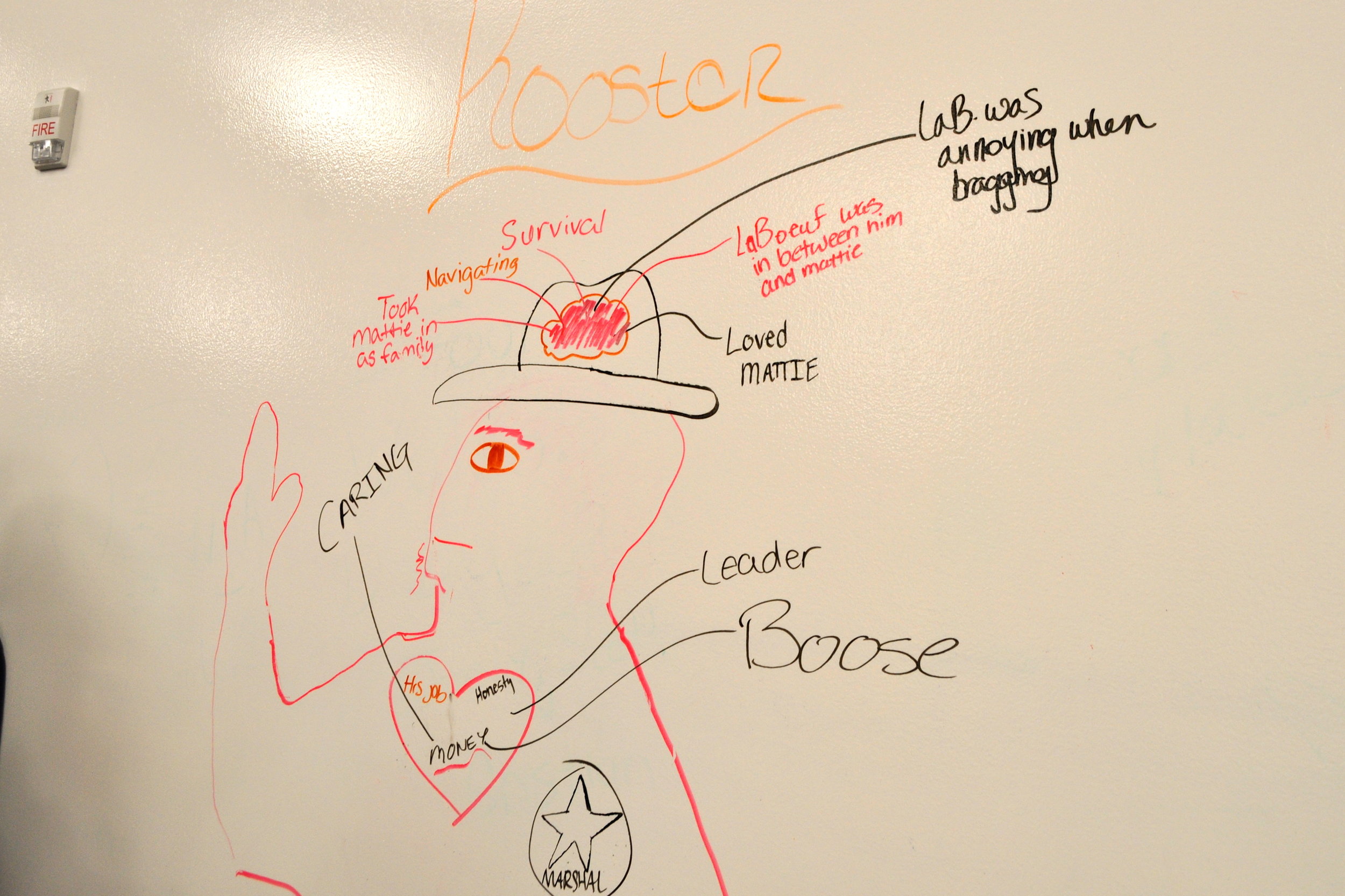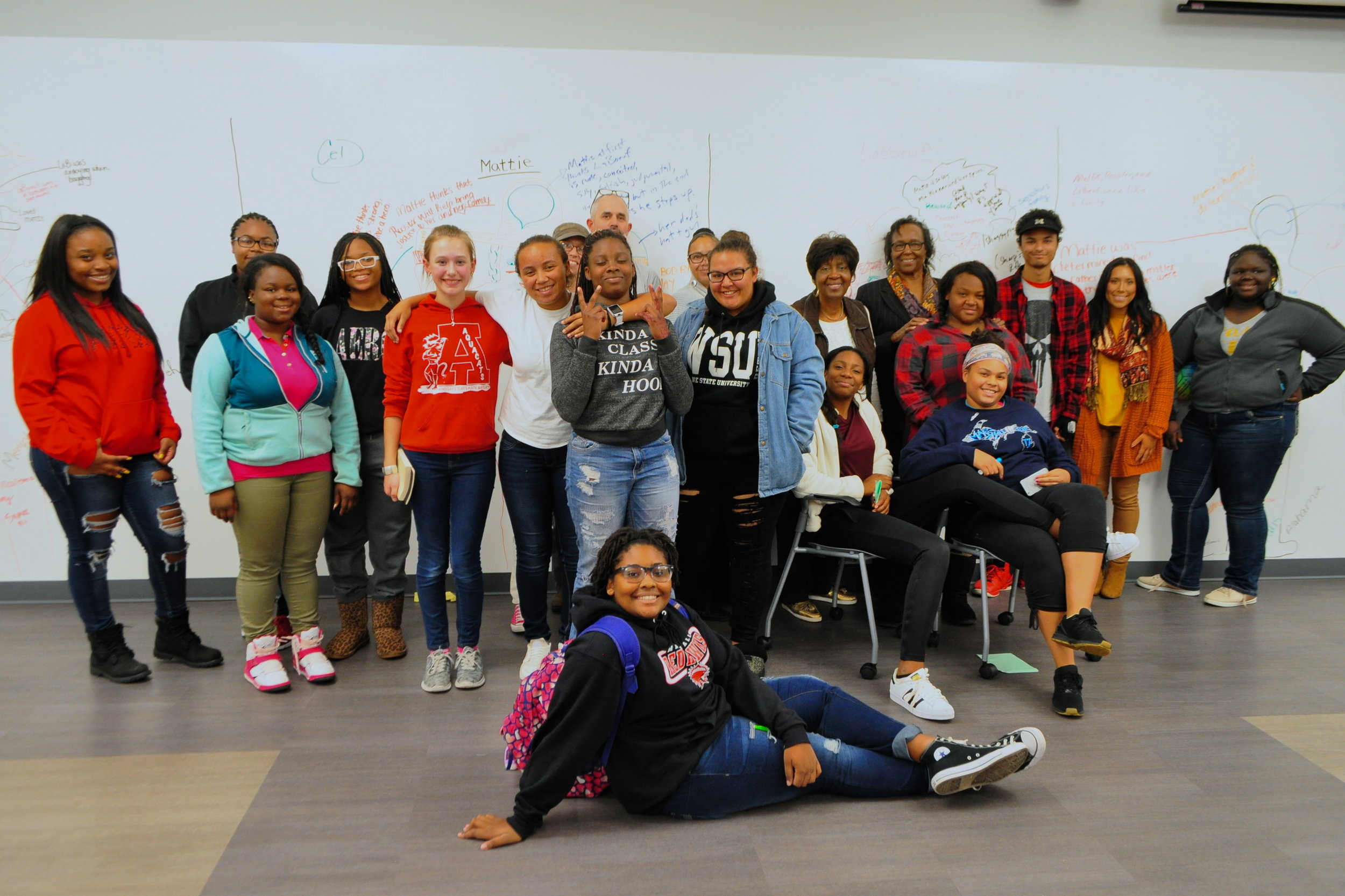 Book Discussion with Aaliyah, Aja, & Fred
October 9, 2017
Aaliyah, Aja, and Fred led a deep discussion about respect and loyalty. They asked participants to think about their own lives and the world of "True Grit" with questions about those who are most loyal and times when respect was absent from interactions. The discussion developed into one about expecting versus earning respect, the ways we can recognize it, and how it tends to change with age. We would like to thank the Albion District Library and Stirling Books & Brew for hosting.
The War & Treaty Concert
October 3, 2017
A crowd of over 100 people experienced the Big Read alongside the unique blend of Folk, Americana, Blues, Roots, and Soul thanks to Albion's own The War and Treaty!
Check them out at www.thewarandtreaty.com.
Kick-Off Parade & Celebration!
September 30, 2017
Thank you to everyone who came out to the historic Holland Park/West Ward to celebrate the beginning of Albion's third Big Read! The celebration started with a parade and continued all afternoon with circus performers, live music, community organizations, student groups, and local food vendors. It was a beautiful day of celebrating with friends, families, and neighbors! Click any photo to enlarge it.
Big Read Youth Leadership Program
Day 5 - August 11, 2017
The final day of the Big Read Youth Leadership Program is a whirlwind. We finished up our silhouette art projects, reflected on the work behind and ahead of us, and celebrated that work with friends, family, and neighbors at the home of Albion College President, Dr. Mauri Ditzler.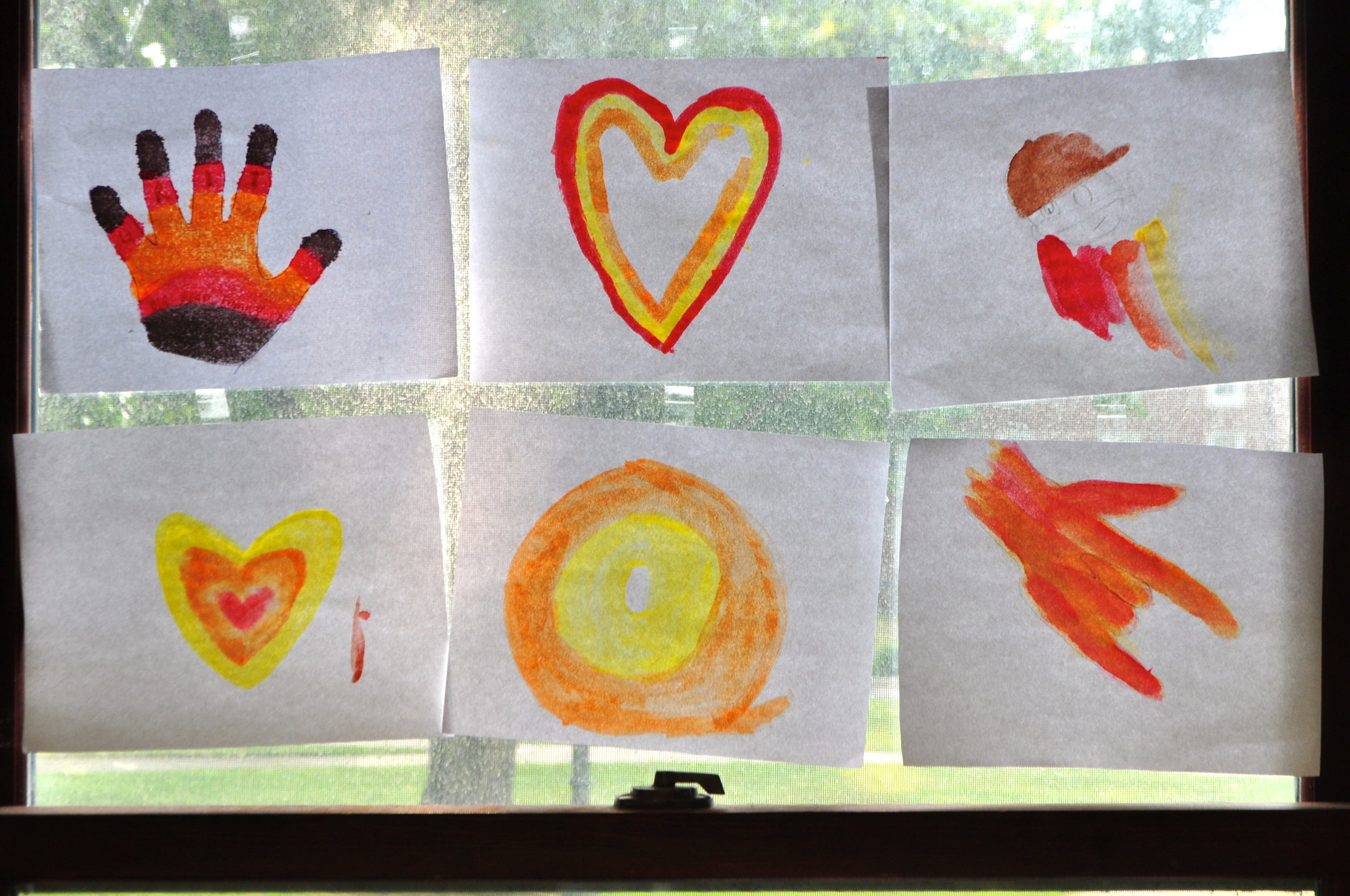 Big Read Youth Leadership Program
Day 4 - August 10, 2017
Day 4 was a special day at the BRYLP! In an effort to connect to the characters and experiences in "True Grit", we visited Nottawa Paint & Quarter Horse Farm located in Marshall, Michigan. It was an exciting and full day exploring the book, the farm, the horses, and our friends.
Big Read Youth Leadership Program
Day 3 - August 9, 2017
Check out photos from Day 3 of the Big Read Youth Leadership Program. We worked on silhouette art projects, visited the Albion College Whitehouse Nature Center, and, of course, played a ton of games.
Big Read Youth Leadership program
Day 2 - August 8, 2017
Day 2 of the BRYLP was a blast! We explored "True Grit" thinking about school clubs, roared through Albion College's campus on an intense scavenger hunt, worked on two art projects, and ate without using our hands during our Big Read traditional Donut Eating Competition. See for yourself below.
Big Read Youth Leadership Program
Day 1 - August 7, 2017
Check out photos from Day 1 of the Big Read Summer Leadership Program. We played games, painted the "Rock" at Albion College, competed with Rock, Paper, Scissors, and started our art project. Take a peek below!
Big Read Youth Leadership Program
June - July 2017
Albion's Big Read starts long before October with our Big Read Youth Leadership Program. Over the course of six weeks in June and July, Big Read Leaders and College Volunteers met to build relationships, play games, and explore "True Grit" using emojis, Instagram, and paper plate awards.